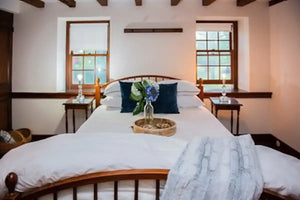 You're going to spend the night in the stone cottage at Honey Hollow Farm in New Hope after our daylong retreat. What an excellent decision. 
Here you will be able to settle in and truly retreat. Extending your stay and giving yourself the gift of extended self-care will take your Wellness Retreat experience to the next level. 
Lodging is for February 24-25 2024. 
This Private Queen Room features a private bathroom (and bathtub). May not be exact room pictured. 
Honey Hollow Farm in New Hope, PA is a boutique wellness and creative sanctuary where an individual can come to nurture and nourish in nature. It is a place where we bring all of who we are individually and collectively in order to create something uniquely beautiful and harmonious, a mosaic.
Local. Rustic. Retreat.